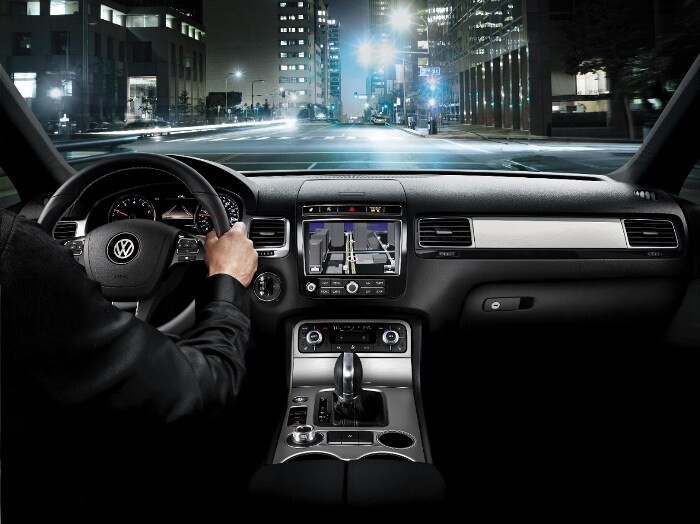 As cars become more technologically advanced, automakers have started showing off their latest innovations at expos like the Consumer Electronics Show. We may be biased here at Byers Volkswagen, but one of our favorite technologies from this year's show had to be the Volkswagen Interactive Experience. The interior in the car of the future promises to look very different from what we're used to seeing today, and we can't wait to learn more about this interesting concept.
Thanks to this demo, we now have a few ideas about how the inside of the Volkswagen Passat and other Volkswagen models will look in the near future. The Volkswagen Interactive Experience offers a three-dimensional gauge cluster, created with the help of two LCD screens. You don't need special glasses to see this cool effect. Another touch-sensitive LCD screen might look familiar, but it offers more capabilities based on your specific Volkswagen User ID. Even if you're in a rental car, this system can remember you and your individual settings.
The Volkswagen Interactive Experience also uses an innovative AR Head-Up Display that projects critical information onto the windshield, which lets you see useful data without taking your eyes off of the road. The technology could even be used to display virtual speed limit signs or overlaid street names, making it easier and safer to find your destination. Volkswagen engineers are also experimenting with eye-tracking technology that can help you reduce distractions while you're driving. Safety and technology go hand in hand with this unique system.
So if you're looking for a technologically advanced vehicle right now, visit our dealership today! One of our helpful Volkswagen dealers in Columbus, OH will make it easy to find just the crossover or sedan you've been searching for. We can't wait to meet you!