Volkswagen Jetta - Not Just a Safe Bet
When you hear the name Volkswagen a few things come to mind-iconic design, safety, and reliability. While good marketing has certainly lent to this image, you don't get a reputation for safety and reliability based solely on advertising. For years, Volkswagen's range of cars have received 5-star ratings from the National Highway and Traffic Control Administration and, among VW cars, the Jetta consistently ranks as one of the safest midsized vehicles on the road. Put safety aside though, and you're still left with an impressive sedan that any commuter or family-focused buyer would be happy to own.
Ride in Comfort
For a brand known for safety, you might get into a Volkswagen for the first time and expect to be surrounded by padding on all sides. But the Jetta is a surprisingly comfortable ride that's perfect for people of all sizes. The front seats offer added knee room for drivers over six feet tall, and the seats are ranked among some of the most comfortable in this range of the market. The cabin is well insulated, helping to eliminate most of the vibration and noise from the road. If you have small children, they'll sleep easily in the back seats, leaving you to drive in more comfort.
Priced for Families
If you're a budget-conscious buyer, you're probably hesitant to buy a European car. German engineering might have a reputation for its precision, but it also comes with a heftier price tag. You'll be happy to hear though, that the starting price for a Volkswagen Jetta is as low as $19,500. For a used model, you can even find Jettas in pristine condition starting at around $8,500. This puts the Jetta in the same range as the Honda Civic and the Toyota Corolla. But compared to those other cars, with a Volkswagen Jetta you get a warranty lasting through your first 72,000 miles.
Not Your Average Design
Similarly, compared to other cars in the same price range, the Volkswagen Jetta is a more stylish design than your average midsized car. Volkswagen is known for its inspired designs, as seen in their iconic VW Beetle, and they've managed to apply that keen eye for design to the Jetta. With its forward sloping profile and clean, straight lines, the Jetta is a car that says career-minded but not afraid to push the boundaries. Driving a Jetta, you'll stand out as a Europhile in a sea of Asian imports and American made options.
It's Comfortable, Safe and Oh, So Stylish
Even though having a reputation for safety isn't a bad thing, it might falsely lead buyers to think the Volkswagen Jetta is a stuffy or sluggish option. But in a market full of midsized four-door sedans, the Jetta stands out as a stylish and comfortable ride that's perfect for families and daily commuters. If you get the chance to test drive a Jetta, we know that you'll fall in love with the quiet and roomy cabin, and at a price similar to more basic options, you're sure to go home driving a new Volkswagen.
---
Volkswagen Jetta Provides a Gorgeous Interior
While a lot of drivers are focused on how good their vehicle looks from the outside, the beauty of the inside is just as important. Since this is where you will likely be spending at least a couple of hours of your life every week, it is important that you like the way the interior of your vehicle looks. That is why you should strongly consider getting the Volkswagen Jetta, which is equipped with the best features to help make its interior as beautiful as possible.
Add Some Color Into Your Life
One of the best ways to instantly improve the interior of your vehicle, especially when driving at night, is by injecting some color into it. With the Jetta, you are able to add not only one color but ten of them. This is possible thanks to its available 10-color customizable interior ambient lighting feature.
By using this feature, you can effortlessly add some mood lighting in strategic areas of your vehicle like the bottom of the dash and door panels. You can also switch between the ten vibrant color options to get a perfect style every time.
Let Some Light In
Using the ambient lighting feature isn't the only way to add some light to your drive. You can also do so by taking advantage of the available power panoramic sunroof. This large sunroof covers both the front and rear seating so that everyone can get some sunlight when you retract it with just the press of a button. You can also allow a fresh breeze to travel through the vehicle thanks to the sunroof being able to either tilt or slide backward, which is something that really comes in handy during those warm summer drives.
Sleek Seating
Some vehicles put too much focus on the comfort of their seats and let the style fall by the wayside. However, the Jetta achieves a blend of exceptional comfort and style by offering its available leather seats which are extremely smooth and comfortable while also being able to add a sleek appearance to the vehicle interior.
Complete every drive in a stylish environment by purchasing the Volkswagen Jetta today.
Volkswagen Jetta Gives You the Best Interior Technology
The more technology that is implemented into a vehicle, the more convenient that your drive will be. That is why you never want to be stuck driving an older vehicle that is going to make driving significantly harder than it needs to be. Instead, you will want a vehicle like the Volkswagen Jetta, which is equipped with some of the best interior technology on the market.
Detailed Information Readily Available
There is a lot of information that you will need access to in order to ensure that your vehicle is operating as it should be. In order to make accessing this information easier than ever before, the Jetta includes a large Volkswagen Digital Cockpit.
This digital high-resolution screen is able to readily display a wide variety of vehicle information such as your speed, fuel economy, elevation, travel time to destination, and much more. So you get to select exactly what you want to see and are not bothered with other information that would otherwise just clutter your screen and make it difficult to find what you are actually looking for.
Large Navigation Display
When you are traveling somewhere that you have never been before, you can't afford to have obscure navigation because it might result in you missing your turn and adding a significant amount of time to your drive. That is why the Jetta makes your navigation as clear as possible by using its available large glass touchscreen display. This makes the map as expansive as possible and even helps to provide you with dynamic route guidance to help ensure that you never miss a turn again.
Easy Device Charging
Nowadays, you rely so much on your smartphone that having it die is going to put a big strain on your day. Luckily, the Jetta is here to help ensure that you never have to worry about having a dead smartphone ever again. It is able to do so by using its available wireless smartphone charger. This charging platform is able to securely hold your phone in place during your travel while also continually charging it without the use of any pesky cords.
Get access to the interior technology that you need by purchasing the Volkswagen Jetta today.
Advantages to Buying a Jetta
Customers all over the world will tell you that there are many, many advantages to driving a Jetta, and who can argue with millions of fans? Here is, however, ashorterlist of some of the reasons you'll love in particular.
Build Your Own Model
Volkswagen knows that American shoppers like options so they give you the option of building your own customized Jetta! With this website feature, you are first given models to choose from. You get to pick the color of the exterior and interior. Then, you decide on a variety of other factors like Driver's Assistance packages, type of wheels, and if you want to include accessories like a cargo box or a license plate frame. You even get to pick the type of mats you want for the floor! Once you made your choices, Volkswagen then give you an estimate of the final cost, and the buying process can begin!
The People First Warranty
Did you know that "Volkswagen" translated means "The People's Car"? That's because they put people first! One of the many ways they do this is through the People First Warranty. This 6 year, bumper-to-bumper warranty is available for most of the 2018 models. What exactly doesthatmean? It means peace of mind that ifanythinghappens with your new Jetta, Volkswagen has your back. It's covered!
The Digital Cockpit
Volkswagen knows that when you're on the open road (or even just making a quick trip to the grocery store), you are the captain of your vessel. To give you that feeling and to make your life easier, Jettas are built with our Digital Cockpits. At almost 12 inches big, the screen gives you the digital information you need to get where you're going. Again, you have the options about what you see on the screen. It can be your speed, fuel economy, your travel time to your destination, or other assistance systems.
These are just a few of the many features you'll love when you buy a Jetta!ContactByers Volkswagen in Columbus, Ohio, at 888-445-0539 to learn more or to schedule a test drive.
---
Why The Volkswagen Jetta provides everything you'd be looking for in a family car
The Volkswagen Jetta may not have the fame or the prestige of small vehicles, such as the Beetle or Golf, but the German manufacturer has made steady improvements to this sedan.
It's slowly and surely become a best-in-class vehicle, which anyone in the market for a sedan should pay attention to. There's isn't much this car does badly and plenty to be impressed by.
In January 2018, the newest edition of the Jetta was revealed to much fanfare. The hype was deserved, as a lot of major amendments had been made to the previous vehicle.
The most obvious change was the sportier exterior with extra LED lighting accents and additional chrome, which has an added touch of class and a cool factor that could well have been missing in previous models.
The fuel economy has improved to just over 40 miles per gallon too, making this the thinking man's car, as well as a good choice for those with more superficial desires. The extra gears in the transmission certainly helped Volkswagen to pass this milestone. It now has six speeds in its manual transmission instead of five. There are eight gears in the automatic transmission, instead of six.
EIther transmission is paired with a 1.4-liter four-cylinder engine, delivering 147-horsepower and 148 pound-feet of torque.
Also included are a host of useful hi-tech safety features, including adaptive cruise control, blind-spot monitors, active lane control, rear cross-traffic alerts, and automatic high-beam headlights.
It wouldn't be out of place to call the Jetta a 'premium' sedan, albeit without a 'premium' price tag. There aren't many sedans out there which can compete with it on style, fuel economy and the vast range of features.
No wonder it's being mentioned among the likes of the Beetle and the Golf among Volkswagen's most beloved vehicles.
The German manufacturer has enjoyed an impressive market share of the small family car market, and the new Jetta will surely help it retain this dominance.
If you want to test-drive the Volkswagen Jetta in the Columbus area, get in touch with the team atByers Autotoday by calling 888-445-0539.
---
The Volkswagen Jetta is a Very Spacious Sedan
Many people are attracted to sedans thanks to their stylish exteriors and fuel efficiency. However, many drivers are turned off by sedans due to their small stature and even smaller passenger volume. Although many modern sedans are fairly small, there are a handful that offer optimal space. An example of this is the Volkswagen Jetta; this sedan may look small in stature, but it has a surprisingly spacious interior that can comfortably fit almost any driver.
The Volkswagen Jetta has a total passenger volume of 94.7 cu.ft. and has a maximum seating capacity of five people. The Jetta also has an interior maximum cargo volume of 14 cu.ft., making it a solid choice for a number of drivers.
When it comes to space, the Volkswagen Jetta surpasses a number of standards. The front of the Volkswagen Jetta contains 38.5 inches of headroom, 55.9 inches of shoulder room and 41.1 inches of legroom. The back of the Volkswagen Jetta offers a headroom of 37.2 inches, 54 inches of shoulder room and 37.4 inches of legroom. This means that the passengers riding in the back seat can be comfortable throughout the duration of the trip.
Anyone who has ridden in the Volkswagen Jetta already knows that they are extremely spacious and comfortable. This vehicle offers a solid passenger volume and an optimal amount of head, leg and shoulder space. Anyone who is interested in purchasing a new or used Volkswagen Jetta should pop over to Byers Volkswagen in Columbus, OH. We've been serving the Columbus, OH area for years and have earned a reputation for providing high quality customer service. All are welcome to visit the dealership to get a closer look at any of our new or used Volkswagen vehicles.
For more information about the Jetta or any of our other vivacious Volkswagen models, don't hesitate to get in contact with the automotive experts atByers Volkswagenin Columbus, OH. Don't forget to give us a call at 888 445 3275.
---
The Volkswagen Jetta Comes Equipped With a Number of Handling and Suspension Features
Although they are often overlooked, there are a plethora of reasons why a driver should invest in a vehicle with high-quality handling and suspension features. Not only can they improve the overall driving experience, but they can also make it easier to maneuver efficiently. This means that the driver can potentially dodge oncoming obstacles, pedestrians and more. Although not all modern vehicles contain high-quality handling and suspension features, there are a handful that do; one of these vehicles is the Volkswagen Jetta. Although the Jetta is better known as a practical vehicle, it is also a perfect example of a vehicle with high-quality handling and suspension.
The Volkswagen Jetta rides on reliable 16 inch, 205/60HR16.0 tires in the front and back. These high-quality tires make it easier for the driver to grip the road in rough weather conditions.
It is worth mentioning that the Volkswagen Jetta also comes equipped with both power and speed sensing steering. These features make it easier for drivers to make last second turns in the streets of Columbus, OH.
The Volkswagen Jetta contains a set of anti-roll bars; these can be found on both the front and back of the vehicle. These give the driver confidence, even if they are driving on the bumpiest, most inconsistent roads.
Anyone who hasn't driven the Volkswagen Jetta will be impressed with the high-quality handling and suspension features. Some of these features include the reliable tires, the steering features, and the anti-roll bars.
For more information about the Jetta or any of our other vivacious Volkswagen models, don't hesitate to get in contact with the automotive experts atByers Volkswagenin Columbus, OH. Don't forget to give us a call at 888 445 3275.
Volkswagen Jetta Keeps Your Entire Family Safe
---
The Volkswagen Jetta Interior Has Everything You Could Ever Want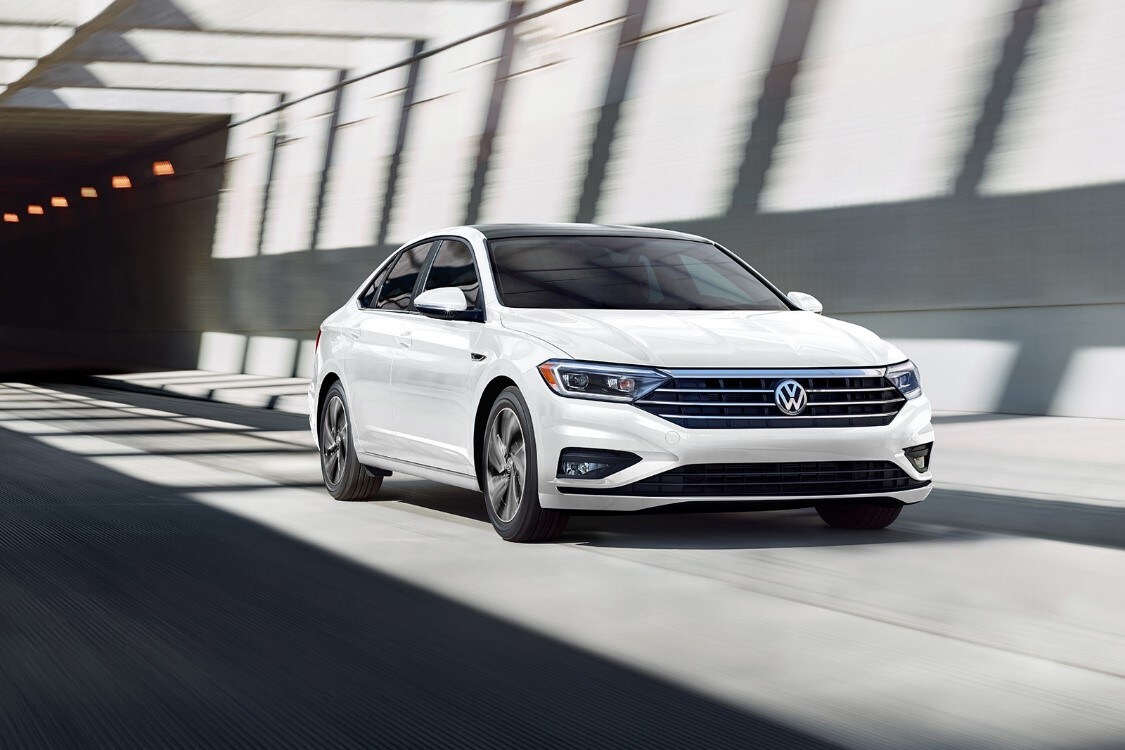 If you are going to spend hours of your life every week driving a vehicle, then it should be one that provides all of the features in its interior that you are looking for. Luckily, the Volkswagen Jetta is able to go above and beyond what you expect from an average car thanks to its collection of impressive interior features.
Easy Entry
Every driver knows what a hassle it is to have to try and dig out the keys from your pocket or purse, especially when you are in a hurry. Thankfully, this is a thing of the past since the Jetta offers the available KESSY keyless entry with push-start button.
By simply walking up to the vehicle with the keys in your pocket, you can automatically unlock the door and enter the vehicle. From there, you simply need to press the push-start button located next to the steering wheel and watch as your vehicle roars to life without you ever having to get the keys into your hand.
Information When You Need It
There are a lot of things that drivers have to pay attention to while on the road. From speed, to navigation, to fuel levels, it can become quite overwhelming to stay aware of all of this information while also keeping an eye on the road.
Luckily, the Jetta makes this easier than ever thanks to you its available color multifunction display. The strategic design and placement of the information display allows you to stay up-to-date on all of the relevant information without having to take your eyes off of the road for very long.
Single Touch Temperature Control
No one should ever have to deal with driving in an uncomfortably hot or cold vehicle, which is why the Jetta offers the Climatronic® dual-zone climate control feature. This helpful temperature control system allows you to simply reach over and set two different temperature zones for the vehicle.
So even if you are hot and your front passenger is cold, you can both maintain a temperature that will make you happy. With the capability to maintain a temperature difference of over 10 degrees, you can really show mother nature who's boss.
Get yourself the vehicle interior that you have always dreamed of by purchasing the Volkswagen Jetta today.
---
How the Jetta Manages to Stand Out Among the Pack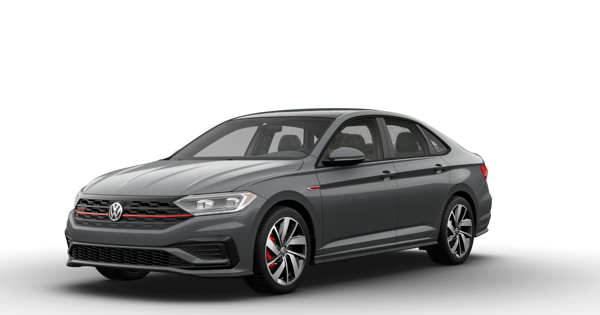 Gone car shopping lately? If so, you probably noticed that the market is pretty saturated with midsized four-door sedans. It seems as if every brand has at least two or three different models to fit the bill. So, with so many options, how is it that the Volkswagen Jetta manages to stand out among the pack? Is it simply the quality of German engineering, or is it something more? Let's look at what the Jetta has that its competitors just don't and can't match.
Forward Thinking Innovation
The Volkswagen Jetta comes jam-packed with some of the most recent developments for your comfort and enjoyment. For example, you're never disconnected thanks to its Apple CarPlay and Android Auto capabilities. You can drive, listen to music, and answer phone calls all without ever putting yourself in danger by touching your phone. For drivers who appreciate music, the Jetta also comes available with BeatsAudio, setting it far beyond most standard four-door sedans.
But the Jetta is still a Volkswagen, meaning that it comes standard with the best of the best safety features. With autonomous emergency brakes, collision warnings, and blind-spot monitoring, you're never safer than when driving a Volkswagen Jetta.
Power at a Reasonable Price
Compared to other midsized models on the market, the Jetta is also a more exciting drive. Thanks to its more powerful engine, you'll get up to 184 pound-feet of torque. This is significantly more than both the Toyota Corolla and Honda Civic-the two market leaders among midsized sedans. You'll zip from zero to 60 in as little as eight seconds, making the Jetta competitive with even luxury brands. Yet, with much more impressive power, you might be surprised to find out that the Jetta prices similarly to the two previously mentioned vehicles.
Variety
Of course, as with many industry leading vehicles, the Jetta is more than just one thing. Shopping for a Jetta can often feel like a pick and mix because of how many options there are. With five different levels of luxury, the Jetta is built to suit your needs. There is a range of six colors, four interior styles in cloth and leather, 6-speed manual and 8-speed automatic transmissions, and more than 25 added packages and accessories. If you're looking for a four-door sedan that lets you built it how you see fit, the Jetta is the car for you.
More Than Just Basic
So, in a market of more than 100 different four-door midsized sedans, what makes the Jetta stand out from the crowd? To put it simply, the Jetta isn't your basic sedan. If anything, it sits right on the edge of luxury. With more power, more innovation, and more options, the Jetta can stay ahead of its competition through sheer dedication to its customers. Volkswagen might ride on their claim to German Engineering, but there's more going on with the Jetta than just a fancy engine. Test drive a Jetta today, and you'll understand the modern comfort that we're talking about.
---
The Volkswagen Jetta Is Sporty and Safe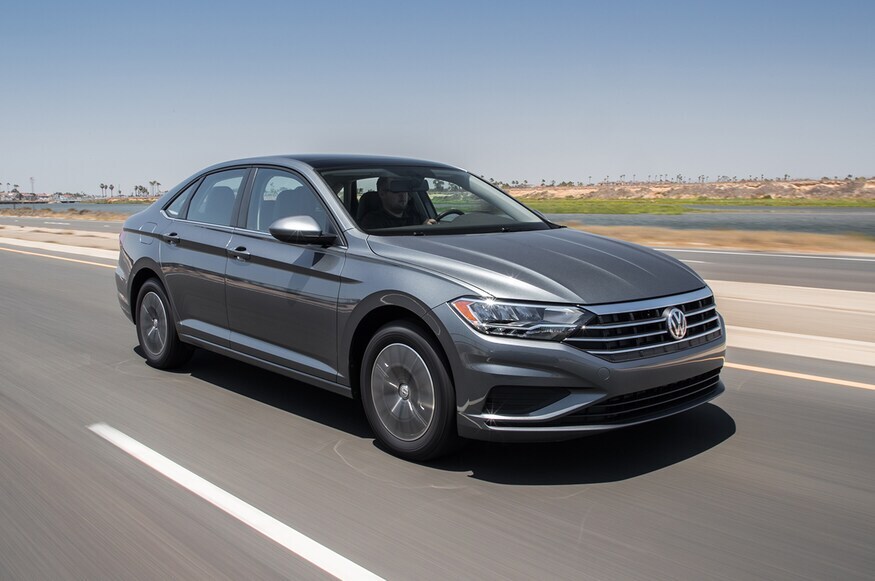 Those who are looking for a reliable car that's not too basic will love the Volkswagen family. The Jetta is one of the bestsellers in the lineup, offering all of the reliability families need with the sportiness today's drivers prefer. Not everyone can pull off an SUV or a minivan, and thanks to this model, you don't have to. It offers plenty of room for up to five passengers, including adults and older kids in the backseat, as well as ample trunk space, and more.
The Jetta has been around for many years and Volkswagen has been doing their part to keep up with current trends and driver demands, delivering a new driving experience with each new model year. Although there aren't huge changes every year, there have been a few revamps of this vehicle over the decades. Today, it has a reputation as the sporty, safe option for the "cool" family driver.
Passenger Room Isn't the Only Creature Comfort
Although the Jetta is revered for its passenger room, that's not the only thing to love about this vehicle. The interior also boasts plenty of other creature comforts, from premium interiors, intuitive infotainment systems in all of the latest models, to impressive fuel economy for a sedan of its size and with its performance capabilities.
The roomy seats and improved options ensure that all drivers have the chance to get exactly what they want when they choose this model. Whether you're looking for a car to hit the open road or  just to haul the family around town, this model delivers everything you need. Standard safety features are decent, but the optional upgrades are the star in the safety department-upgrade as much as you can to make the most of your Jetta. It's worth the investment.
Sport Features
Although this model has sport features, it's not necessarily a "sports car" per se. Some want to give it bad ratings and reviews because it doesn't have premium sport handling and performance, but to keep it affordable, VW designed the vehicle to appeal to the widest audience of buyers. Those who are looking for a family car that's a little more fun, or even just a car for commuting in style, will find plenty to love about the sporty look and feel of this car.
Plus, what you get for the money is impressive. It prices well in its class, even with the various trim options available, and you'll always feel like you're getting a good deal whether you buy the base model or upgrade to a premium trim. You might want to splurge on some premium safety features, but other than that it's good to go.
There are multiple engine configurations and plenty of optional upgrade packages, including full power and luxury interior features. Some models even have optional sunroofs or moonroofs, and the upgrades to wireless technology are becoming almost standard as the years go on.
You'll Be Set with a Jetta
If you're looking for a sedan that's more than standard-something that has style, space, safety and a sporty feel, test drive the Jetta today.
---
Five Reasons Drivers Love the Volkswagen Jetta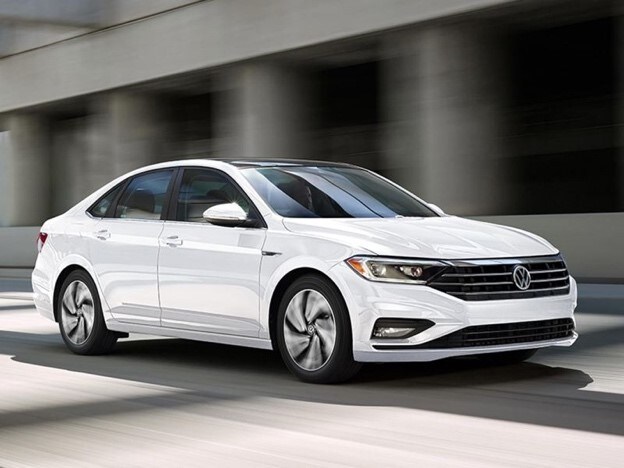 The Jetta is one of the most popular vehicles from VW today, offering everything people want in the way of style, substance, and safety for family trips and more. If you're considering adding this one to your family, there's certainly a lot to love. Volkswagen has a reputation for creating unique vehicles, but also for creating reliable, durable vehicles that stand the test of time and cater to what today's drivers need.
The Jetta has plenty of great features, and here are five of the top reasons drivers keep coming back to it year after year.
Fuel Economy
The Jetta offers some of the best in its class when it comes to fuel economy, and it has only continued to improve over the years. Today, even the city fuel economy rivals some of the top rated performers and it offers a better ride and stable handling along the way. It's not going to go forever like a hybrid does, but it's also not going to guzzle gas like some sedans.
Style
If there's anything that brings young families to the Jetta, it's the cool styling and sporty look of most models. While a lot of VWs have a more standard appearance that looks responsible and clean, the Jetta has some sporty incarnations that are changing the way people feel about family sedans. Plus, you can upgrade to specific sport trims and premium wheels or upgrade the interior for even more style.
Budget-Friendly
This car is also priced affordably and offers some great options for just about every budget, even if you want something more than the well-priced base model. There are various trims available and even the used models have great values. Whether you're buying new or used, for now or for life, you're sure to find something that works for you with this model.
Improved Technology
Volkswagen is always looking to improve their technology with every new incarnation of their vehicles. The Jetta is no exception, with many later models featuring premium infotainment systems, digital cockpit displays, and refined interior styling that is futuristic, yet simple to operate and navigate. You can always upgrade to premium tech and entertainment if you want, but even the base models boast some impressive specs.
Safety and Reliability
Volkswagen is a brand that is known for creating reliable, safe vehicles. This sedan offers a sturdy construction and feel on the road, while still providing capable handling. It gives you plenty of included safety features and upgradable options, as well as great ratings for safety and reliability across the board. Some of the older models don't have as much to offer here, but VW has definitely noticed that this area needs their focus and made the appropriate adjustments.
You'll Be Stylin'
As you can see, there's plenty to love about the Volkswagen Jetta. These are just some of the highlights of course, which don't cover the spacious interior room, impressive performance and power, and other features, including the various trims and colors to suit every taste. Try it on to see if it fits your style today.