When the time comes to upgrade your vehicle, it can bring on a lot of emotions, from general excitement to stress. At Byers Volkswagen, we want to make the purchasing process as easy as possible. Which is why, when you're ready to work with us, we'll be there every step of the way. We have one of the largest selections of new car inventories, and a diverse selection of pre-owned and used cars. Our talented team is committed to making the buying process hassle-free, which includes letting you know exactly what you need to bring to the dealership when buying a new vehicle.
First, you'll need to bring your valid driver's license. This will allow you to test drive any vehicle on the lot. Next, you'll want to have proof of income, such as a pay stub or bank statement. Having proof of income is important for the finance team so they can verify your ability to make a monthly payment. You also want to bring proof of insurance, so you can drive your car off the lot and potentially trade in your old vehicle. If you plan on trading in your old car, be sure to bring the title of the vehicle with you. Also, if you intend to have a co-signer for your loan, bring them with you as well as their financial and insurance information.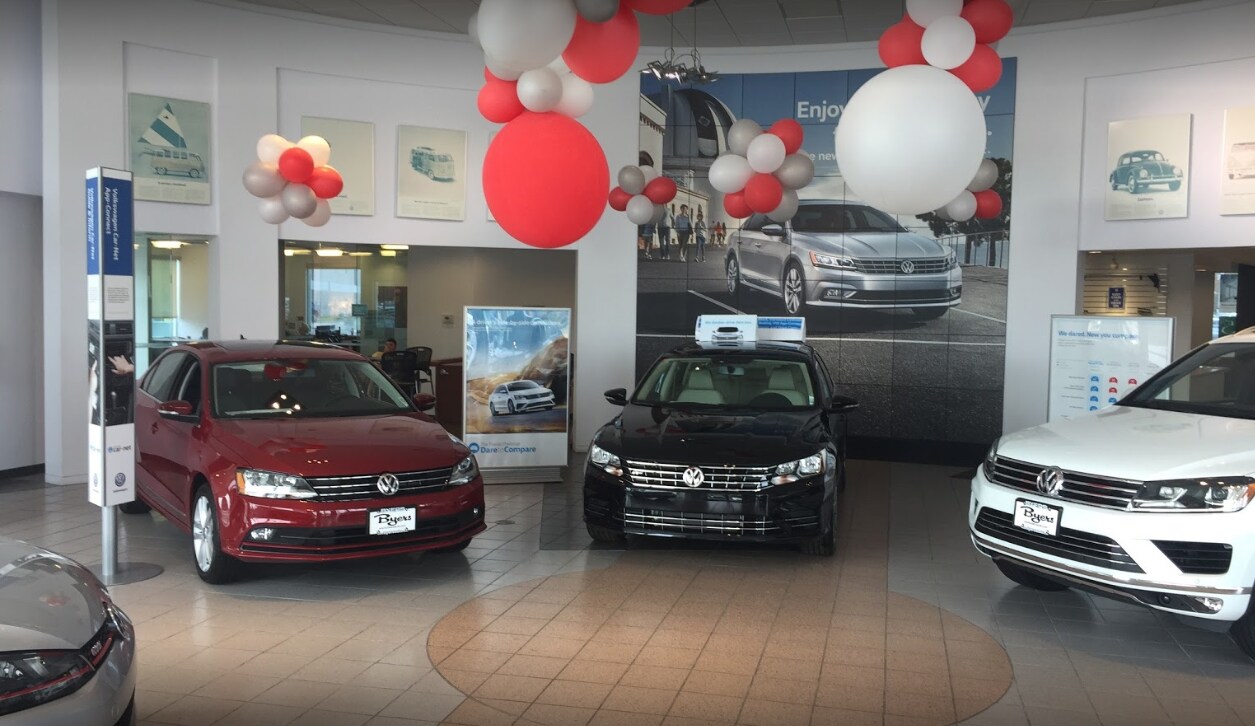 Once you have gathered your documents, you're ready to head to Byers Volkswagen. We are conveniently located at 379 N. Hamilton Road. Our team of experts can't wait to help you purchase your next Volkswagen!
We Have a Large Inventory of New and Used Vehicles
Now that you know which documents you need to purchase your new vehicle, we can explore more exciting information, like our excellent inventory here at Byers Volkswagen. We carry Volkswagen models drivers have grown to love as well as new and noteworthy models.
The 2022 Passat is the last of its kind. It's had an amazing 50 years of production, offering style and safety with an attractive and sporty countenance. In honor of its legacy, Volkswagen has designed and released the Limited Edition model of the 2022 Passat. You'll find a distinct exterior detailing and luxurious interior features that include leather upholstery and built-in navigation. You can also get one of 423 Passat models in an exclusive Racing Green Metallic body color.
This year, Volkswagen introduces the 2022 Taos, a compact SUV that will be joining the stellar Volkswagen SUV lineup. The 2022 Taos comes standard with all-wheel drive, a 1.5L TSI DOHC Turbocharged 4-Cylinder direct fuel injection engine with 158 horsepower, and heated bucket seats. It is a stylish SUV you have to see to believe. Stop by Byers Volkswagen today or contact us to schedule a test drive.
Whether you have your eye on an ionic vehicle like the 2022 Passat, or you want to try something new like the 2022 Taos, our sales professionals at Byers Volkswagen are ready to help you find the best Volkswagen for you and your family. You can find our dealership, talented team, and amazing inventory at 379 N. Hamilton Road. We're here to make your car buying experience easy. We can't wait to get you in your new Volkswagen.