Volkswagen Beetle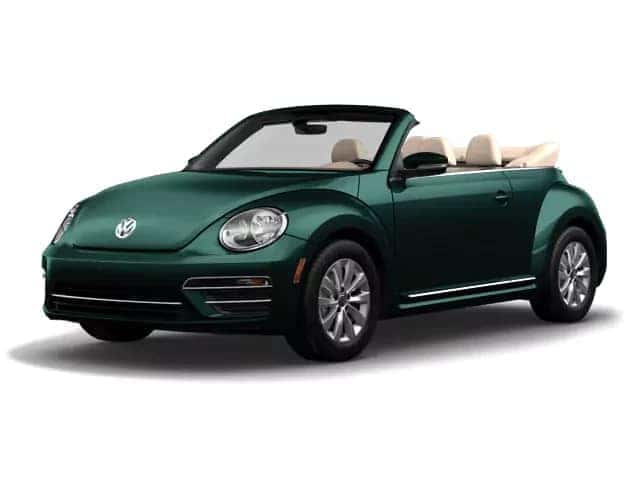 Even the least knowledgeable of drivers will be able to point out a Volkswagen Beetle. It's one of the most recognizable vehicles on the road.
Whether you take it as a coupe or as a soft-top convertible, you can expect it keep its reputation of being one of the most enjoyable personal cars to drive.
In fact, with the addition of more powerful engine and a raft of new interior features, it's arguably even more fun to drive than ever before.
Engine Options
The 1.8-litre gas engine has been replaced with Volkswagen's newest 2.0-litre four-cylinder option. You'll get a 174-horsepower edition as standard, with the choice to upgrade to a 210-horsepower version with the top-spec R-Line trim. Fuel economy remains impressive in spite of this upgrade. You can expect to make 26 mpg in the city and 34 miles per gallon on the freeway with the 174-horsepower engine.
The 23 mpg in the city and 29 mpg on the freeway with the R-Line engine remains impressive for a vehicle of that size. It'll take you from 0 to 60mph in 7.6 seconds.
A Host of Features
There are seven trims to this vehicle. A Beetle for every price range, if you will. As you upgrade, more useful and enjoyable features become available.
The coolest addition to the Volkswagen Beetle has to be the option to drive it as a convertible. Speeding this fun vehicle down the freeway with the roof down and your favourite songs blaring through the Bose audio system has to be up there with the peak experiences in driving.
Still, a bunch of brand new features add to the fun. The S trim comes with automatic headlights, rain-sensing wipers, and keyless entry now.
What's more, there's a special-edition of the 'Coast' trim, which comes with Heritage alloy wheels, plaid seats, and loads of useful safety features.
As the improvements keep on coming, it's clear that the VW Beetle will live on in the hearts of drivers for some time yet.
Excited about taking the Volkswagen Beetle for a test drive in Columbus, Ohio? Get in contact with Byers Auto today.